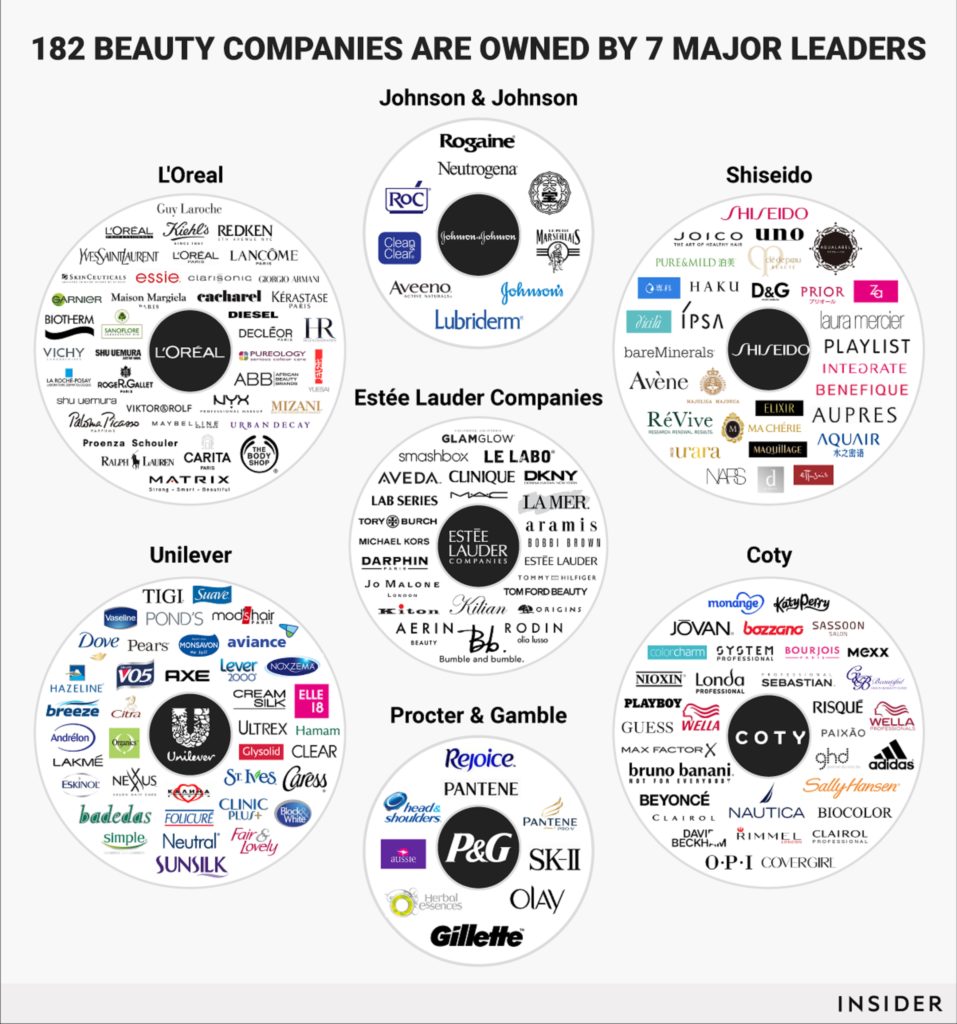 Did you know that 182 beauty brands are represented by just 7 companies? These don't even include other indie brands; this year at the Indie Beauty Expo in NY there were 200+ brands that showed their products, so I am pretty sure there are a lot of other brands out there.
With so many brands, it is definitely hard to figure out what to choose, and who to trust. This is why my article on packaging is so relevant. Companies need to invest in the packaging in order differentiate themselves and keep their market share.
One of the reasons I developed my own face wash was because even though there were options I didn't know who to trust. I would look at ingredients and always feel stumped. I wouldn't know what the purpose of the ingredient was or why I needed so many products? I would read articles and would get even more lost. So, although these articles were supposed to help me, they really just made me more confused. I couldn't trust the celebrities because I wasn't sure if they were promoting it because of the extra $ in their bank or they truly believed in the product. I would ask friends, watch influencer videos but it just didn't satisfy my needs, because it would come back to how do I know it will be ok for my face? I have super super sensitive skin so I was always weary.
In my pursuit of figuring out how to trust a brand, I went to the FDA website. I learnt that when it came to labeling ingredients, ingredients had to be listed in order of the most prominent, and anything less than 1% could be in any order, this could also include fragrance or coloring ingredients. Plus if you can convince the FDA that an ingredient is a trade secret, then you can be generic with your labeling and just say for example, "fragrance". Like I said I have sensitive skin, this scared me even more because I really didn't know what I was putting on my face. I also didn't know the quality or where it was getting sourced from so how was I supposed to trust this brand? All the reviews or comments did not make me comfortable. I felt if I had a reaction I wouldn't know what I was reacting to, it could be the main ingredient or the small ingredient, how on earth was I going to figure it out?
So thank god for Face Gems. Something honest. Something transparent. Something that made sense. I found having good skin didn't need to be filled with tons of ingredients or products, you needed to have one good product and a good lifestyle. The one good product had to have good ingredients. We use just 3 pure ingredients, not altered in any way; plus we tell you where we source it from. And I think that's why it is easy to trust us. We don't have any added preservatives, colors, fragrances and you can see when you flip – the ingredient list is short.
As a company you can do all the fancy packaging, influencer reach outs, all the marketing dollars you have, but you can't lie about the ingredients – you can hide them but you can't lie about them.
As a consumer you are trying to find your way. Your dollars are limited, so spend it on the things you can trust. And you can see this with your eyes. Don't get blinded by all the noise – trust your eyes and what you read. This is my 3rd article, talking about the ingredients in a different way, because they are THAT IMPORTANT. I know many people recognize the importance of ingredients, but it really comes down to, are you reading the ingredient list?
So, the answer to how do you trust a brand?
TRUST YOURSELF
Look at the ingredients.
Ask where the ingredients are from.
Ask why is it in the product to begin with – what is it doing for the product? How will it react? Most companies have to do a skin test, ask what the results were.
And if this is all too much – it is really simple, if you don't understand it, DON'T buy it.
I launched Face Gems to make it easy to know what you're putting on your face and make it easy to trust us.
I really hope this is helpful. I would love to hear your stories or tips on how you trust a brand.