Last week I shared my Haldi (turmeric) Ceremony. If you haven't checked it out yet, I recommend reading it before this post as it is a continuation. This week I will talk about the ceremony that purifies the bride; making her Goddess of Purity
What does Goddess of Purity mean?
In Christianity, the bride wears white signifying purity. Similarly, in Hinduism, cleansing the bride purifies her body and soul, making her a Goddess of Purity.
What is done during this ritual?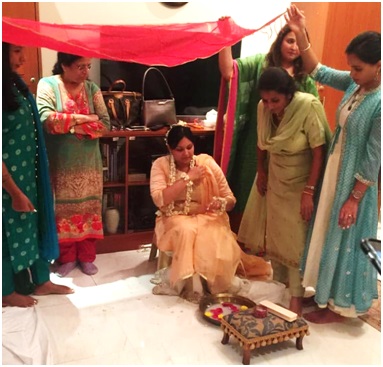 After being covered in turmeric, historically, the bride would bath her skin and hair with a mixture of rose water and milk. Afterwards, her aunties would decorate the bride with jasmine flowers and Indian jewelry.
Now of course, we are in 2019, so brides opt to shower and then the ritual is performed by washing the bride's feet. As you can see, I am getting ready to have my feet washed.
What about the ingredients?
No Indian beauty ritual would be complete without the natural ingredients. Similar to the haldi festival the ingredients are pure, whole and natural. In this case, we have:
Rose Water: Recently, rose water has become super popular. Probably because it is incredibly versatile due to its anti-inflammatory properties and abundance of antioxidants. In India some people call it a magic potion. Back then the brides would fully bath in a tub of rose water. As a result rose water would: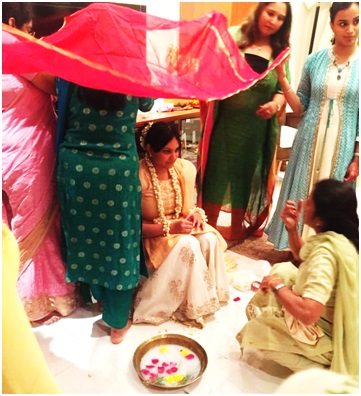 • Maintain their skin's pH balance. With a pH level of 5.5, rose water helps balance out your skin's pH levels.
• Reduce any redness of irritated skin, get rid of acne, and aid in removing oil and dirt • Hydrate, revitalise and moisturise the skin giving it a refreshed look. These hydrating properties also enhance the quality of hair. It works wonders as a natural conditioner and revitalises hair growth.
• Due to the astringent properties rose water possesses, it helps clean pores and tone the skin.
• The aroma of roses is a powerful mood enhancer. It eliminates feelings of anxiety and promotes emotional well-being, making you more relaxed, which every bride needs!
Milk: Hindus use milk because it is believed to have purifying qualities; and given this is a purifying ceremony it is a very important ingredient. Milk's properties of B-vitamins, alpha hydroxy acids, calcium and other potent antioxidants, allow it to help the skin and hair tremedously: • Milk works as an exceptional skin-toner for all the skin types.
• It nourishes, conditions and moisturizates your skin. It adds a glow to the face and improves the complexion and reverses dryness.
• It deeply cleans the pores of excessive oil, sebum, dirt and even blackheads making your skin radiant.
With all these benefits, no wonder Cleopratra used to soak in milk! To confirm: yes my feet were super super soft .
Now that I have been purified…
It is time for decoration!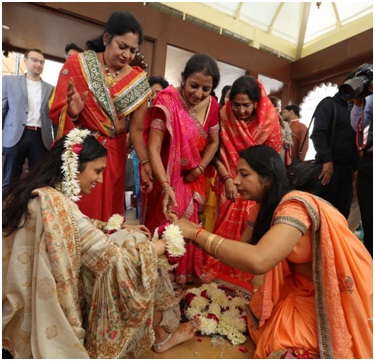 Every bride loves to accesorize. Back in the olden times, all that was available were flowers. For this reason, the ladies decorate the bride with flowers; putting them in her a hair, ears, even make belts and bracelets. As you can see my sis even got a headband!
But it isn't just any flower, they specifically used Jasmine.
Why Jasmine?
• It is a beautiful and delicate white flower.
• But more importantly, jasmine, lifts emotions. Breathing in jasmine helps control emotions decreasing anxiety and stress. Now that we are decked in flowers, it is time for Jewelry!
Apart from increasing the beauty, jewelry in Indian culture is considered an investment that can help during a financial crisis or unforeseen circumstances.
At this ceremony however, the bride isn't putting on her fancy wedding jewelry, but is wearing jewelry for her feet and hands.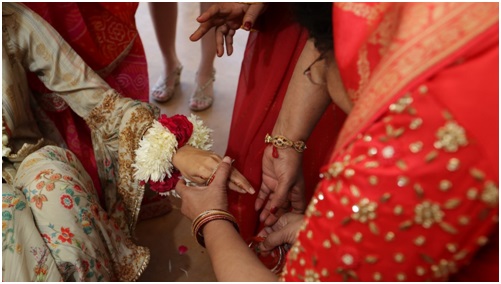 Let's start with the hands.
The aunties put on bangles as seen in the picture. In Indian culture, bangles are not only worn as ornaments but also are a symbol of marriage. Bangles are thought to bring good fortune and health for the husband. During a bride's marriage, she is made to wear smaller sized bangles so that they are pushed onto her hands. This is believed to fill her married life with love and affection. Interesting right? It is a bit a of a pain to take out at night though!
Next come the feet.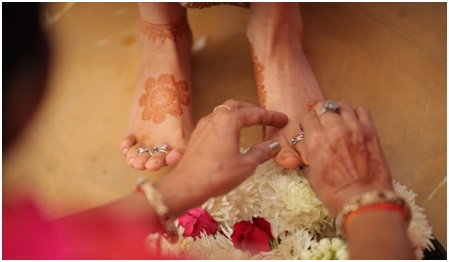 First we have toe-rings:
⦁ They are small silver rings usually worn on longest toe, and followed by other toes.
⦁ Toe-rings are used only by married women and promote good health.
Next are the anklets. Similar to the toe-rings: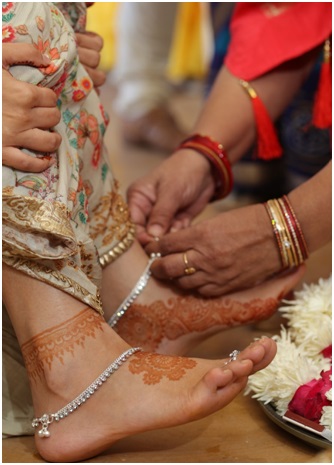 ⦁ These are mostly worn by married women and are usually made of silver. If an unmarried woman wears these anklets she is considered brave and bold. We like this .
⦁ Anklets not only have only cultural significance, but also health benefits. The silver helps boost the immune system and overall health of the women.
And now we are done! Here are the results….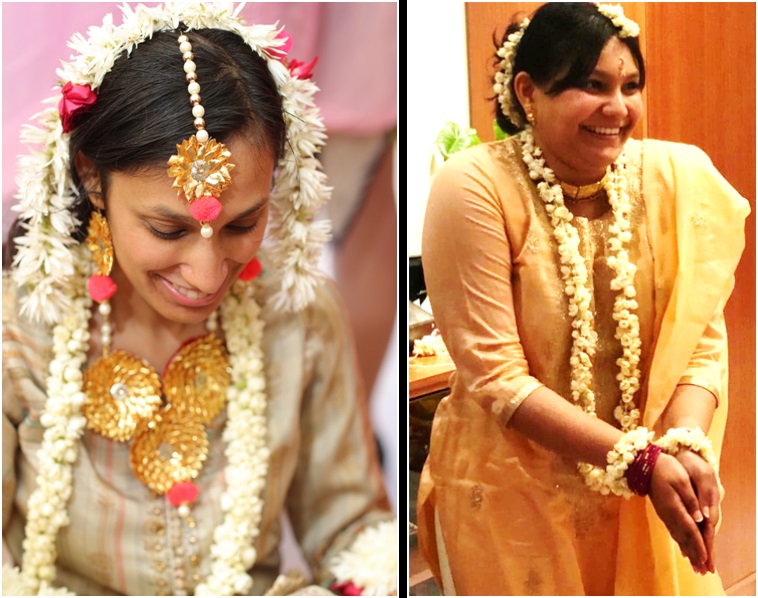 How do you think we looked? Did we look like Goddesses of Purity? Indian or not, I think every bride should give herself a spa day of rose water and milk.
And in case you're wondering, my ceremony happened at home, hence the cell phone pictures 😊.
Would love to hear your thoughts, so leave me a comment! Next week we will get into the henna ceremony!