Description
Waterless Body & diaper balm cream.
WHAT DOES IT DO?
Gently moisturizes the baby's skin and bum.
Why massage your baby?
Massaging your baby has many benefits, including improving weight gain, circulation and aiding digestion. It is a great way for you and your partner to bond with your baby. You may find it relaxing, too!
Does it Smell?
No. It is unscented.
Is it safe for the baby?
Yes. We use whole, pure and safe plant-based ingredients that are gentle on baby's sensitive skin.
If unsure about anything always check with your doctor before use.
Ingredients
What you see is what you get. We are 100% transparent. You know and understand exactly what you are putting on your skin. Fear no more.
ONLY 3 PURE INGREDIENTS: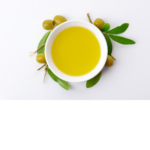 1) Olive Oil: Loaded with anti-inflammatory properties, olive oil reduces itching and skin irritation. It also protects the baby's skin from bacteria due to its anti-microbial properties.
Sourced from: Italy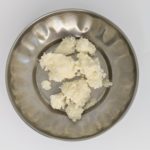 2) Mango Butter: Rich in Vitamin C and A it is a rich moisturizer and smooths the skin. It is easily absorbed by the body so the baby won't slip all over the diaper changing station while you change her/him.
Sourced from: India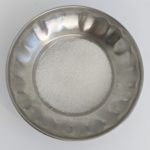 3) Jojoba Wax: It is hypoallergenic making it safe for babies. It soothes the baby's skin and rashes.
Sourced from: USA
Why no water? Water is 80%-90% of the formulation for many products. But, water rots and as a result preservatives have to be put in products to maintain the shelf-life. However, preservatives can irritate the skin. A baby's skin is very delicate and sensitive, so using preservatives can agitate the baby's skin. With no water and only pure plant-based ingredients, allows for the safest and best results.
How do 3 ingredients do all of this?
We invest in the quality of our ingredients. Why use 10+ ingredients when 3 superb ones do a better job.
All ingredients are 100% natural, plant-based, cruelty-free, vegan, gluten-free and non-gmo.
How to use
1) Scoop balm and rub between your hands to melt.
2) Gently massage on body or bum.
How often do I need to use?
For body: Use daily before or after bath.
For bum: After every diaper change.
See before and after.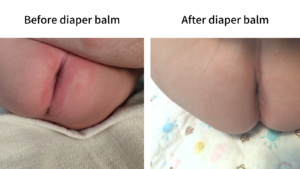 How to use: (See video)
Why I made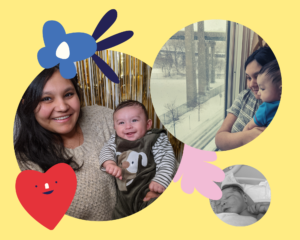 Every mum wants to keep her baby safe. As someone who works in skincare, I am aware of ingredient-filled products. Unable to find simple and pure products for my little one, I made my own formula inspired by my Indian roots, to now share with all my fellow mommies.
Baby Skin 101
Understanding baby skin 101:
Babies have notoriously sensitive skin.
This is because their skin is 20% thinner than adult skin.
Since their skin is thin, it is easy for it skin to dry out easily or get rashes, eczema, acne and other skin ailments.
Also because their skin is thin, it is so sensitive be extremely sensitive. So it is not just what ingredients  that is important but also the number of ingredients.
For this reason, it is critical to use products that have minimal ingredients. So if your baby has a reaction, it becomes extremely easy to identify the ingredient and stop using products that contain it.
Irritation from diapers:
The most common source of redness and irritation from diaper usage is urine and stool left in contact with the skin for too long.
This is why it is important to change frequently and always apply the diaper balm after every change.
Sustainability
#skinconfident is not just about respecting our body and inner weird, but also the world we live in.
At Feather & Bone we are committed to respecting the most important natural resource Mother Earth has to offer: WATER
NO water in manufacturing. In skincare products water can be up to 80%-90% of the formulation, and through the manufacturing process there is water wastage.
Lower carbon emissions. Water is heavy to transport which requires more fuel resulting in increased carbon emissions to get the product to the customer. With ourproduct being waterless, our overall carbon footprint is much lower.
Our ingredients are earth-friendly and directly derived from nature. As a result the product residue in wastewater does not harm the environment, aquatic plant and animal life. We were recognized for this by the United Nations.
Since there is no water, there is NO additional carbon emissions, water wastage or product residue in wastewater, when the tubes are sent for recycling; the complete opposite for water based products.
Questions and answers of the customers
There are no questions yet. Be the first to ask a question about this product.